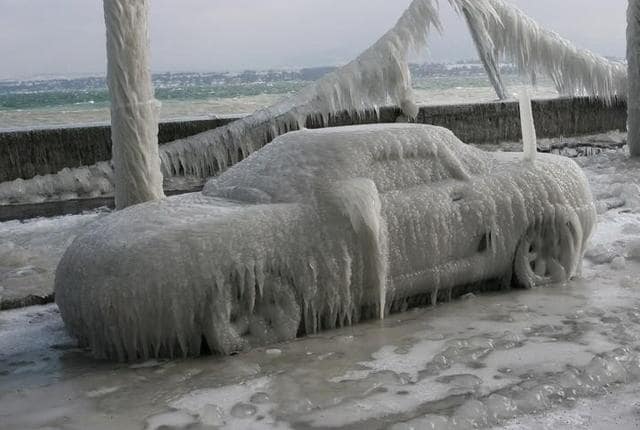 There are few things worse than walking out of your home in the morning and seeing 3 inches of snow on your car to put a damper on your day, right before it even starts. This is especially true with the kind of weather that Oneonta and the surrounding towns in the Otsego county get this time of the year. Then there are the iced up roads to worry about and all that salt definitely isn't any good for your vehicle. Since it will be difficult to avoid the snow, here are a few tips to help make the commute more pleasant and help preserve car's condition.
1. Check your batteries - Cold temperatures cause batteries to lose their charge very quickly. This process happens a lot faster in older batteries and can leave you with a unresponsive car when you least expect it. Get your
batteries checked
to see if they are still good or need replacing and there will be one less worry on your mind.
2. Check your windshield wipers and fluids- Worn windshield wipers will be less effective at wiping off the snow and will break apart even faster from the abrasive ice.
Get them checked
and replaced if necessary.
3. Get snow tires- Snow tires aren't just for the snow, they are better suited for handling and breaking in temperatures below 45 degrees Fahrenheit. Here is a short Youtube video from Continental Tires that says it all.
4. Invest in a remote starter system- A remote starter system will allow you to be able to warm up your car and melt off most of the ice on the windows before you need to use it, saving you time in the morning to grab a cup of coffee or maybe even have some breakfast before you head to work. They come in different models with some giving you the ability to interact with your car from your smartphone.
5. Install a heated wiper fluid system- The same goes for this little tidbit. A heated wiper fluid system will get you on the road faster and can be used all year round for more effective windshield cleaning of bugs and grime.
Autotech mobile
is offering winter specials for remote starters and heated wiper fluid systems. Alternatively you can contact
our Parts Department
for more information on these products.
6. Wash your car regularly- This tip is very important. All the salt collected while driving over the winter can cause serious rust damage to the body and under-carriage of your vehicle. The simplest way to minimize this is to wash down your vehicle as often as possible, especially on the warmer days if you plan on doing this your self.
7. All of the above are available to you when you bring your car in for service at Royal Chryler Jeep Dodge in Oneonta, NY. We provide a free 21 point multi-check inspection that includes a battery, wiper and tire check among other things. We also offer a complimentary wiper fluid top-off and car wash to every vehicle that we service.
Schedule an appointment today!