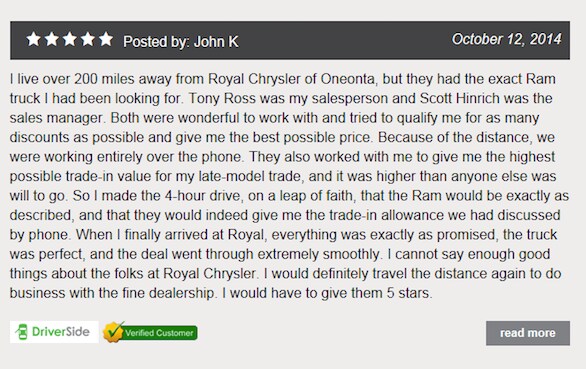 We are honored, every single day, to welcome individuals from all over New York to our dealership. While our Oneonta location isn't exactly a quick ride for those traveling from places like Binghamton, Syracuse, Albany, Norwich, or Delhigh, we know our loyal customers drive to see us for a reason.
Why Drive an Hour or More?
So what really makes Royal worth driving so far for? For starters our inventory of both new and used cars rivals what you'll find at most other dealerships. We offer an extensive collection of new Chrysler, Dodge, Jeep, and RAM vehicles at incredible prices. You can even shop online and get an e-price before visiting the dealership. Our collection of pre-owned vehicles includes not only our top brands but those from other top automakers as well.
Our customer service team is top-notch. Our staff members care about making sure you get the car you want and need, at the best price possible, no matter how long it takes. Our patient, compassionate team will ensure you feel welcome and comfortable throughout every step of the car-buying process.
Of course, there's more to Royal Chrysler Jeep Dodge than simple car sales. We also have an onsite service and maintenance department staffed with technicians who understand how your car operates. We never make repairs with odd parts – only with the Chrysler, Dodge, Jeep, or RAM parts your car already runs with. We also have a strong partnership with Autotech Mobile, which means our technicians are skilled at the installation of aftermarket car alarms, audio systems, and remote starters.
"I think the reason many customers come to our shop has to do with our Certified Mechanics and their ability to get parts and service in one location, knowledgeable staff, and the fact we're one of the few places that will provide a loaner vehicle. Over the years I've seen our service department shuttle people to and from the shop as well as pickup customer vehicles at their homes and bring them to our facility for service. It's also becoming more apparent each year the local, small auto shops don't have the necessary equipment to handle the newer vehicles computer systems." ~ Scott Hinrichs, Sales Manager
We try our best to accommodate your personal needs, too. Our team will graciously shuttle to home or work and back to pick up your vehicle after a repair, and we are one of the few dealers in the area that will provide you with a loaner vehicle if necessary as well.
We want everyone who walks through the doors at Royal Chrysler to walk out feeling like a new member of the family. Hopefully you'll allow us to give you the "Royal" treatment soon, too.
Please
contact Royal Chrysler
with any questions regarding new car sales, pre-owned vehicle sales, or service. We're here to help!